Johann Sebastian Bach was born in Eisenach (located in what used to be East Germany) on March 21, 1685, the eighth and youngest son of Johann Ambrosius Bach. Music was a part of his family for generations, so it was no surprise that Bach was trained in music from childhood. His mother died in 1694 and his father died the very next year, leaving Bach an orphan before he turned ten. Bach and his brother Johann Jacob went to live with their older brother Johann Christoph, who was working as a church organist in Ohrdruf. Christoph continued Bach's musical education by teaching him the keyboard. In 1700, Bach and his friend Georg Erdmann began attending the St. Michael's School in Lneburg on a sort of scholarship program. An old regulation allowed poor children to attend the school for free if they sang in the church choir. At St. Michael's, Bach had access to a famous music library and the benefit of the school's high emphasis on music education. Here, Bach learned about Germanic musical traditions as well as French traditions (from the French-style academy that was also housed at the school). Bach gained a reputation here for being an organ virtuoso. His playing and writing at the time was highly influenced by Georg Bhm, the French inspired organist and Johan Adam Reinken, the Dutch organist.

Bach is considered by many to have been the greatest composer in the history of western music. Bach's main achievement lies in his development of the late Baroque music. Bach spent the height of his working life in a Lutheran church position in Leipzig, as both organist and music director. Much of his music is overtly religious, while many of his secular works admit religious interpretations on some levels. His large output of organ music is considered to be the greatest legacy of compositions for the instrument, and is the measure by which all later efforts are judged.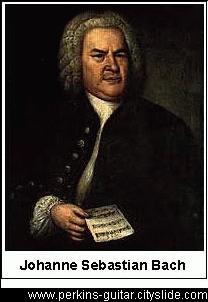 His other solo keyboard music is held in equally high esteem, especially for its exploration of the strictly contrapuntal fugue; his 48 Preludes & Fugues (The Well-Tempered Clavier) are still the primary means by which these forms are taught. His other chamber music is similarly lofty, the sets for solo violin & solo cello being the summits of their respective genres. Bach's large-scale sacred choral music is also unique in its scope and development, the Passions and B Minor Mass having led to the rediscovery of his music in the 19th century. His huge output of cantatas for all occasions is equally impressive. Finally, his large output of concerti includes some of the finest examples of the period, including the ubiquitous Brandenberg Concertos.